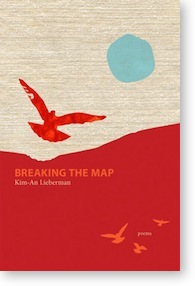 BREAKING THE MAP
|
Poems

A journey through mythical Vietnam, contemporary America, and the enduring landscape of memory.

"Simply put, this is a wonderful first collection....This is a geography that demands attention."
-
Samuel Green
, Washington State Poet Laureate

or order direct from
Blue Begonia Press
"Kim-An Lieberman's latest collection of poems,
Breaking the Map
, examines her heritage in intelligent, unsentimental ways. Even when she doesn't write autobiographical poems...she's writing about why we're here. She finds delicious, unexpected answers."

-
Paul Constant
,
The Stranger


"Kim-An Lieberman's gorgeous poems don't just map human experience, they crawl through its dust, searching. Her subjects are sometimes mythical, fanciful—a lover sprouts wings, a water buffalo arrives in the suburbs—but even the mundane is magnified by language that is startling, and exquisitely precise..."
-
Kathleen Flenniken
, Floating Bridge Press
"...whatever forty-year-old image we might still remember from Vietnam or America that is part real and part television, she makes whole, new, and vibrant. She makes us a
witness
more than reader."

-
Shawn Wong
, Author of
Homebase
and
American Knees